Taking care of business
At Suzuki we are committed to providing you and your business with innovative and easy solutions to keep you moving forward. With an award winning range of vehicles, and a comprehensive suite of finance and maintenance services, we work with you to efficiently deliver more value to your bottom line every day. Together, our vehicles and your business keep New Zealand moving.
A move in the right direction
Suzuki is one of the world's most successful brands, symbolising outstanding quality and value for its millions of customers throughout the world. Enjoying a reputation as an innovative leader in compact car, motorcycle, marine and 4WD technology, we put our customers' needs first,with a focus on quality, durability, value and respect for the environment.
Safe, reliable and fuel-efficient range of vehicles
Environmental global focus
Dedicated sales team
Extensive national dealer and service network
Tailored solutions to meet your needs

Access to finance and insurance services

Comprehensive range of approved genuine accessories
A fleet of demonstrator vehicles for in-house evaluations
Making it our business
We pride ourselves on being able to provide very high levels of personal service for our business customers. We appreciate not every business has the same requirements so we are adaptable to meet your needs. Plus you are dealing directly with the decision makers for Suzuki New Zealand Ltd allowing clearer communication channels and faster responses.
Meet the team
Simon Terry, Automobile Fleet Manager
"I always look forward to introducing our product line of modern, cleverly-designed and well built vehicles, with outstanding safety ratings, fuel efficient engines, and competitive pricing. There is room in everyone's fleet for Suzuki vehicles."
With over 10 years of Suzuki product knowledge and another 15 in industry experience, Simon is confident in delivering solutions for a diverse range of business needs.
Email simon.terry@suzuki.co.nz or call 029 487 7273
Nationwide support
No matter where your business takes you, you're never far from the team at Suzuki ready to offer quality service and assistance. Our 38-strong dealer network is well established and represented throughout New Zealand, offering a combination of sales, service and parts support.
Affordable and efficient
We design our cars with you in mind, ensuring you get the best driving experience for the most value. With a focus on compact, fuel efficient vehicles, Suzuki has created one of the most affordable and economical vehicle fleets with the lowest average CO2 emissions among the top 10 vehicle brands in New Zealand. We offer unique HYBRID and fuel-saving technology as part of our high spec, affordable range.
Take a look at our Fuel Economy Calculator and compare in L/100km and CO2 emissions how efficient each model is within our range.
How does the Suzuki range stack up in fuel consumption and CO2 emissions
In New Zealand, Suzuki's new vehicle fleet is the most fuel efficient of the top 10 manufacturers based on the average combined fuel consumption per vehicle sold.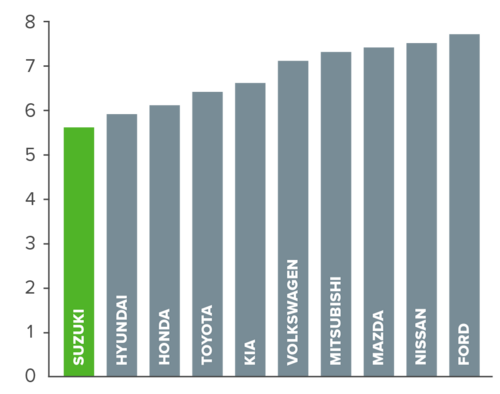 Average Fuel Consumption – Combined cycle L/100km
New Zealand New Vehicle Sales 2021
Suzuki also has the lowest average CO2 emissions of the top 10 manufacturers too, making it a brand you should consider if you are serious about fuel efficiency and doing your bit for the environment.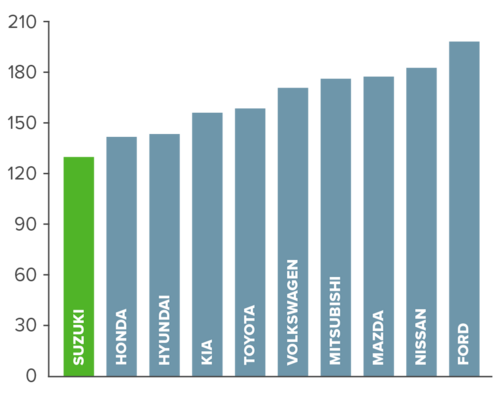 Average CO2 Emission - g/km
New Zealand New Vehicle Sales 2021
Safe and sound
Drive with complete peace of mind with Suzuki on your fleet. To keep your drivers safe on the road, our vehicles are equipped with advanced safety technology such as automated emergency braking, reverse cameras and adaptive cruise control.
To further protect your investment, we offer a comprehensive 5 year warranty programme, including a 3 year/100,000km new vehicle warranty, 2-year powertrain warranty extension and 5-year Suzuki roadside assistance plan for total peace of mind 24 hours a day, 7 days a week (unlimited km).
We also have available a range of service packages to assist you in controlling on-going running costs. Talk to your Suzuki Dealership Business Manager or one of our team today to find out more.
Sustainable and reliable
World renowned for our durability, Suzuki ranks as one of the most reliable car manufacturers in the industry. Under the vision 'Small cars for a big future', we are constantly improving and providing environmentally-friendly products with sustainable technology at their core. By emphasising the "Smaller, Fewer, Lighter, Shorter, and Neater" concept in all areas of design, production and supply, Suzuki continues to be an industry leader in managing environmental change.
Award winning satisfaction
Every year, we receive motoring awards for our Small Cars and SUVs, highlighting Suzuki's ability to deliver safety, quality and value in one complete package. However, we are most proud of the recognition and satisfaction of our customers who drive their Suzuki every day.
In 2020, Suzuki took out the Consumer NZ People's Choice Award for Cars and also Suzuki Swift winning the Small Car category. Of those reviewed in the reliability and satisfaction survey, 90% said they were "very satisfied" and no fewer than 89% would recommend the Suzuki brand.
Suzuki also won Canstar Blue Most Satisfied Customers Cars awards in 2014, 2015, 2017, 2018 scoring 5 stars in categories including overall satisfaction, value for money, point of sale, after sales service, reliability and performance.