Small car experts
For Suzuki, small is not a size, it's a philosophy. A way of thinking that's in our DNA, and instructs everything we do. 'Small' isn't about cutting back or taking things out, it's about fitting more in! And that's where Suzuki's experience is unrivalled.
We haven't just jumped on the efficiency band-wagon, we've been living this philosophy since we began in 1909. We build cars people love, cars that deliver exactly what people want, in the most efficient way possible. We constantly push materials, technology, design and engineering – to deliver more than you expect in every way.
The result is a range of small cars that offer comfort and style, performance and practicality, safety and fun – everything you want in a car, without compromise.
Click here to find out why a small car is right for you and enjoy choosing from our Suzuki range.
It's Real Value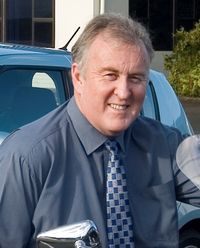 We are committed to making new car ownership a real possibility for all New Zealanders and giving our customers the best quality, value and service with every new car purchase. Our Real Value price includes a 5 year Warranty and Roadside Assist package for total peace of mind. So, see your Suzuki dealer today to find out just how easy and enjoyable new car ownership can be."
Tom Peck, CEO, Suzuki New Zealand