< News
18 Dec 2017
Mettam Wins But Moir Still The Suzuki Series Leader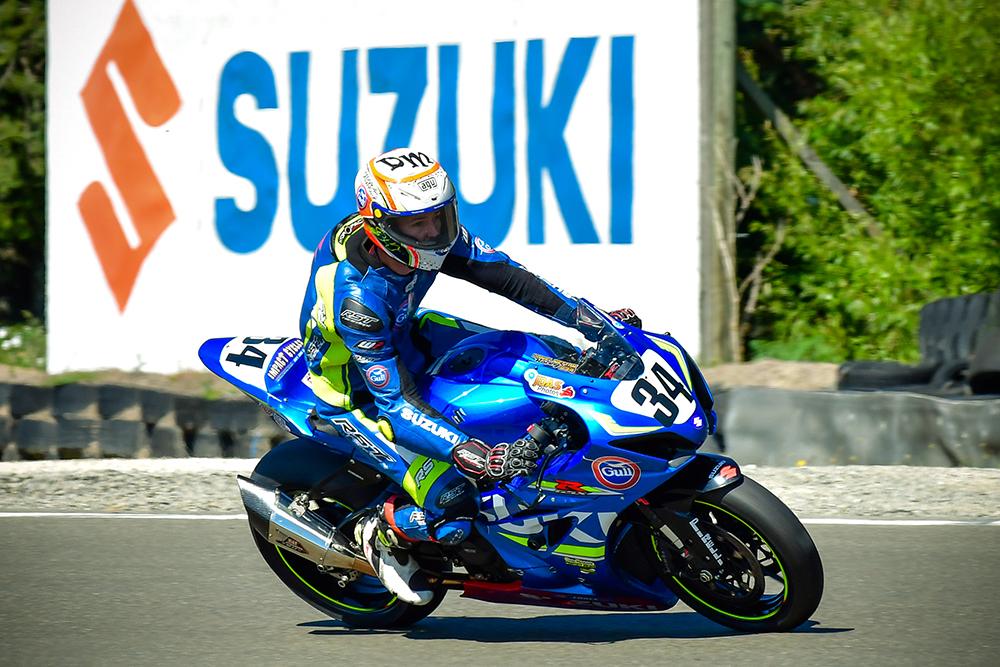 Team-mates went head-to-head in pursuit of Formula One class glory at the second round of three in the 2017 Suzuki Series in Feilding on Sunday and, on identical Suzuki GSX-R1000A bikes, it was always going to be a hard-fought affair.
Bay of Plenty's Scott Moir dominated the opening round of the series on his home track at Taupo a week ago and the 33-year-old Suzuki star managed to maintain his F1 class lead after he bravely fought to achieve a 4-3 score-card at Manfeild Circuit Chris Amon on Sunday.
But the day really belonged to fellow Suzuki team rider Daniel Mettam, who finished 1-2 in the two F1 outings at Manfeild.
Those results mean Glen Eden's Mettam has surged up the series standings, from fourth overall and a distant 16 points behind Moir, the 21-year-old Mettam is now second and just seven points adrift of his mate.
A third Team Suzuki rider, Wellington's former national superbike champion Sloan Frost, qualified fastest in the F1 class early on Sunday, but he then struck trouble in the opening F1 race, missing a gear changeand running off the track. He managed to recover from last position to claim tenth at the chequered flag, but the slip-up was costly and the 2015 Suzuki Series winner now has only a remote chance of claiming the main trophy this year.
However, it was certainly some consolation for Frost when he bounced back to win the day's second F1 race, edging out Mettam, with Moir third across the line in a thrilling Suzuki 1-2-3 finish.
Mettam said he was "gutted" he couldn't win both F1 races at Manfeild.
"I think the organisers made a mistake and cut the race short by two laps.
"I started the day fourth in the standings, but now I'm up to second, so I can't complain too much."
It was a "good solid weekend" for Moir, who was grateful to still be leading the title chase after a "scary moment" in race one.
"I was lucky to finish that first race," said Moir.
"I was in the lead when I high-sided and got flicked high off the bike seat. I managed to save it and not crash, but I was dropped back to eighth. Then I overshot a corner while trying to catch up and lost three more places. These were simply mistakes and I had nobody to blame but myself."
For Moir to fight his way back to eventually finish fourth in that race speaks volumes for the man's talent.
The newly-created GIXXER Cup class, set aside for riders aged between 14 and 21 and all on identical Suzuki GSX150F bikes, continued to thrill the large crowds following the series.
The class has a new leader after Hamilton's round one winner Jesse Stroud crashed heavily during his qualifying session in the Formula Three class. He was taken to hospital for a check-up and he took no further part in the day's racing.
Paeroa's Blake Ross finished 1-2 on Sunday and he now leads the GIXXER Cup standings, seven points ahead of the "West Coast Warrior", 14-year-old Greymouth rider Clark Fountain, with Whanganui's Tarbon Walker, Invercargill's Michael Wilson and Pukekohe's Thomas Newton completing the top five.
As well as being an integral part of the three-round Suzuki Series, the GIXXER Cup grade of competition will also be a feature of the four-round 2018 New Zealand Superbike Championships, beginning at Mike Pero Motorsport Park, Christchurch, on January 6-7, with rounds to follow at Timaru, Hampton Downs and Taupo.
Riders will count six of seven rounds from these two separate competitions, discarding points from their one worst round, to determine the inaugural GIXXER Cup champion for 2017-18.
The third and final round of the 2017 Suzuki Series is set for the public streets of Whanganui, the famous Cemetery Circuit, on Boxing Day.
Other class leaders after round two of the Suzuki Series are:
Wainuiomata's Shane Richardson (Formula Two); Auckland's Nathanael Diprose (Formula Three); Lower Hutt's Glen Skachill (Post Classics Pre-89, senior); Lower Hutt's Dean Bentley (Post Classics Pre-89, junior); Whanganui's Dwayne Bishop (Bears, senior); Hamilton's Zurrin Wikki (Bears, junior); Tauranga pair Barry Smith and Tracey Bryan (sidecars, F1); UK pair Tim Reeves and Mark Wilkes (sidecars, F2); Whanganui's Richard Dibben (Super Motard).
Words and photo by Andy McGechan, BikesportNZ.com