The perfect getaway
Perfect for escaping everyday, the new Suzuki Vitara Hybrid is a master of disguise. This suave-looking SUV combines hybrid efficiency with Suzuki's BoosterJet turbo engine for deceptively smooth and ever-efficient performance. Along with all the clever comforts and street-smart technology for a quick getaway, you'll be on the run before you know it.
Vitara Hybrid JX 2WD MANUAL
$39,990 +ORC
NOW $37,990 + ORC
Clean Car Neutral
Vitara Hybrid JX 2WD TWO TONE
$40,790 +ORC
NOW $38,790 + ORC
Clean Car Neutral
Vitara Hybrid JLX 2WD AUTO
$41,990 +ORC
NOW $39,990 + ORC
Clean Car Neutral
Vitara Hybrid JLX 2WD TWO TONE
$42,790 +ORC
NOW $40,790 + ORC
Clean Car Neutral
Vitara Hybrid JLX AWD AUTO
$44,990 +ORC
NOW $42,990 + ORC
Clean Car Neutral
Vitara Hybrid JLX AWD TWO TONE
$45,790 +ORC
NOW $43,790 + ORC
Clean Car Neutral
EFFICIENT LOW EMITTING HYBRID
5.0 LITRES PER 100KM*
Smart Hybrid technology with stop-start and torque assist
*results for JX 2WD Manual 3P-WLTP conversion
KEEPING YOU SAFE AND SOUND
FULL SUZUKI SAFETY ASSIST SUITE
AEB, Adaptive Cruise, Blind Spot Monitor & Rear Cross Traffic Alert
MADE FOR KIWI ADVENTURES
2WD OR ALLGRIP AWD SELECT
Pack up and get going in this spacious SUV
Best of both worlds
Nothing beats the feeling of freedom when you're on the run in the new Vitara Hybrid. Sporting a 1.4 BoosterJet Turbo with 48V SHVS hybrid system (Smart Hybrid Vehicle by Suzuki), this ingenious SUV delivers efficient performance in the city, effortless open road cruising, and plenty of off-road muscle for when you need it.
Hybrid power and efficiency
As a self-charging and low emitting hybrid, there's no need to worry about changing the way you drive or plugging in the new Vitara Hybrid. Always ready to go, Suzuki's Smart Hybrid fuel saving technology combines a powerful petrol engine with fuel–saving stop-start, electric engine assist, and torque fill control and boost.
Available in a smooth-shifting 5-speed manual or the optimising 6-stage automatic.
Driving on $100 of petrol
VITARA HYBRID JX 2WD MANUAL
5 L/100 km*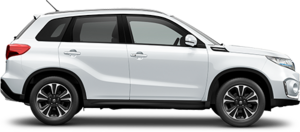 714 km
VITARA HYBRID JLX 2WD AUTO
5.6 L/100 km*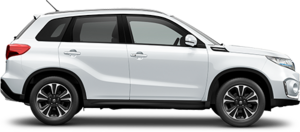 638 km
VITARA HYBRID AWD AUTO
6 L/100 km*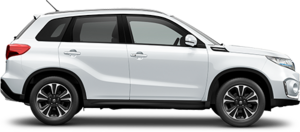 595 km
*Fuel consumption will vary due to factors such as vehicle condition, driving style and traffic conditions. Fuel economy and CO2 emission results are from official 3P-WLTP conversion.
On the lookout
Should you find yourself living life a little too close to the edge, a suite of autonomous driver assistance systems in the new Vitara Hybrid will kick into gear to help get you out of those sticky and potentially dangerous situations.
These include:
Dual Sensor Brake Support
Lane departure warning
Weaving alert
Adaptive cruise control
Blind spot monitoring
Rear cross traffic alert
Reverse camera
Front and rear parking sensors (JLX)
Please do not rely on the Advanced Forward Detection System. It is an aid only and the ability to detect obstacles, lanes and control the vehicle is limited. Always drive safely.
Escape the suburbs
Let every trip in the JLX AWD Vitara Hybrid be the ride of your life!
With its intuitive ALLGRIP technology and four selectable modes, maximise the performance of the transmission, engine and safety systems depending on the road surfaces and driving conditions you face. Before you know it, you'll be out of town and heading to the hills.

Steal the spotlight
Effortlessly drawing a crowd, the new Vitara Hybrid's polished curves hide its playful personality and resourceful practicality. Take notice of its unique precision-cut alloys, bold grille design, sleek LED lighting system, and tinted privacy glass. With looks this good, everyone will be following your lead.
Captivatingly comfortable
Whether you're heading to your next job, letting your hair down or a bit of both, inside the new Vitara Hybrid is the place to be. Elevated lines, subtle curves, and silver contrasts connect seamlessly and its roomy, carefree feel and expansive 'throw it in the back' space, make every assignment seem like a breeze.
**Check the compatibility of your device at www.apple.com or www.android.com. Apple and CarPlay are trademarks of Apple Inc. AndroidAuto is a trademark of Google Inc.
Raise your profile
With places to go and people to see, make a statement about who you are. Continue your exterior colour scheme inside the Vitara Hybrid with matching interior trims. Take the adventure up a notch with roof racks and a bike attachment. Or look after your investment with accessories designed to protect from wear and tear.