Free at last
Strong, sophisticated and adventurous, the breathtaking Suzuki S-Cross is your ticket to freedom. Feel your worries melt away as you relax into your own pod of personal comfort, protected by the latest in safety technology and powered by performance-enhancing efficiency.
Forget the before and after – embrace the now with this luxurious SUV.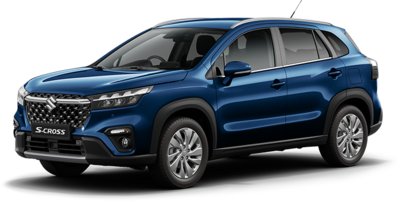 S‑Cross JX TURBO 2WD AUTO
$37,500 + ORC & CCF
S‑Cross JX-BSM TURBO 2WD AUTO
$37,990 + ORC & CCF
S‑Cross JLX TURBO 2WD AUTO
$40,500 + ORC & CCF
Luxurious Features
HEATED FRONT SEATS
Dual control for personalised comfort
BOOSTERJET TURBO Efficiency
6.6 litres per 100km*
Kind on your pocket and environment
*results for JX 2WD Auto 3P-WLTP conversion
FULL SAFETY ASSIST SUITE
ADAPTIVE CRUISE WITH STOP & GO
Keeping you safe and sound
Bold on the outside
With its distinctive piano-black front grille, chrome accents and square wheel arches, the new S-Cross exudes a self-assured elegance. Its front and rear LED lamps light the way in style, while the silver roof rails add to the SUV's refined, aerodynamic design. Be bold, brave and free as you hit the road in search of your next adventure.
Enlightened on the inside
Feel the calm wash over you as you unwind in the roomy S-Cross – your space of serenity. The adjustable rear seat backs deliver expansive cargo space and comfort, depending on your needs, while the heated front seats and dual-zone climate air conditioning ensure the S-Cross is always supremely comfortable.
Peace of mind
Rest easy as you are guided through the challenging world out there. The S-Cross comes with a host of advanced safety features, so you're free to focus on the road ahead and all it holds.
Dual Sensor Brake Support

Lane departure warning

Weaving alert
Adaptive cruise control
Reverse camera
Parking sensors front and rear
360 degree camera (JLX Turbo)
Please do not rely on the Advanced Forward Detection System. It is an aid only and the ability to detect obstacles, lanes and control the vehicle is limited. Always drive safely.
At one with the world
Stay in tune with your surroundings and the heart of your S-Cross with the 9-inch HD infotainment display (7-inch in JX Turbo). Serving as the central communication hub, receive vehicle info including fuel economy, driving range, alerts, Sat Nav maps, and camera views – and connect to your smartphone through Apple CarPlay (wirelessly in JLX Turbo) or Android Auto**.
**Check the compatibility of your device at www.apple.com or www.android.com. Apple and CarPlay are trademarks of Apple Inc. AndroidAuto is a trademark of Google Inc.
Grounded in the now
Take control of your destiny with ALLGRIP SELECT, choosing the mode to match your environment. Increased engine response? Sport mode has you covered. Extra traction on slippery surfaces? Turn the dial to Snow. Stuck in mud or sand? Switch to Lock for maximum torque. Fuel efficiency? Auto mode is the go.
The way forward
Experience the connection as the 1.4-litre BoosterJet direct-injection turbo engine in the S-Cross maximises torque for dynamic performance and superior fuel economy. Soar along with the 6-stage auto for outstanding acceleration and cruising efficiency, using the paddle shifters when chasing that extra thrill.
Driving on $100 of petrol
S-CROSS JX TURBO 2WD
6.6 L/100 km*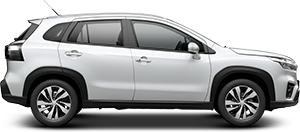 541 km
S-CROSS JLX TURBO 2WD
6.6 L/100 km*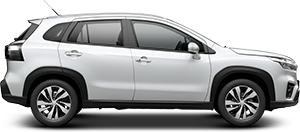 541 km
S-CROSS JLX TURBO AWD
6.9 L/100 km*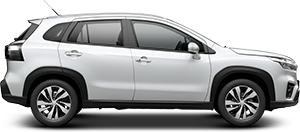 518 km
*Fuel consumption will vary due to factors such as vehicle condition, driving style and traffic conditions. Fuel economy and CO2 emission results are from 3P-WLTP conversion.
Gerhard H, Palmerston North
Its has been a car that has met our needs very well, so much so that I bought a second one after 5 years to update to the turbo model.
Read more
Lynne M, Christchurch
The S-Cross gave us a chance to try out a slightly bigger vehicle than the two Swift's we had previously. It suits our current life style.
Read more

It has mainstreamed the styling massively and sharpened up the tech/equipment. It now ticks the important space and safety boxes for sensible people and the looks certainly won't offend.
Read more

...the fact you can get close to its promised fuel economy should appeal more to would-be buyers.
Read more