Switch on to a smarter future
Make the change to all-new Swift Hybrid. With all of the personality and practicality of the Swift you love, this eco-friendly hatch seamlessly integrates Smart Hybrid technology to deliver amazing fuel efficiency and low emissions. So, switch on the fun and discover the cleaner, greener, swifter way to drive.
To find out more about Suzuki Swift's safety record, please click here.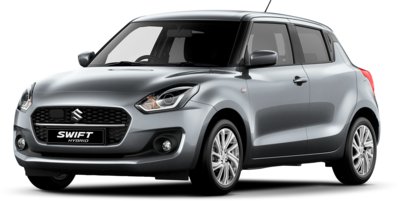 Swift Hybrid GLX AUTO
$28,990 +ORC
NOW $26,990 + ORC
Clean Car Neutral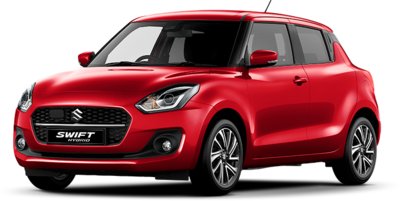 Swift Hybrid RS AUTO
$31,990 + ORC
Clean Car Neutral
Swift Hybrid RS AUTO TWO TONE
$32,500 + ORC
Clean Car Neutral
ECONOMICAL & EFFICIENT
4.7 LITRES PER 100KM*
Smart Hybrid technology with stop-start and engine assist
* results for GLX Auto 3P-WLTP conversion
FULL SMARTPHONE INTEGRATION
APPLE CARPLAY & ANDROID AUTO
Total connectivity with people, places and sounds
ADVANCED FORWARD DETECTION SYSTEM
ADVANCED SAFETY
Stay safe with the latest technology
SHVS – Smart Hybrid Vehicle by Suzuki
Going hybrid doesn't mean skimping on performance, or changing the way you drive – quite the opposite. Suzuki's Smart Hybrid fuel saving technology is light and compact, combining a responsive petrol engine with stop-start and electric engine assist for economical and easy driving. This fusion of power reduces harmful gas emissions and you'll never have to worry about plugging in overnight as the new Swift Hybrid is self-charging and always ready to go.
How it works
The Swift's Smart Hybrid system uses an electric motor called an Integrated Starter Generator (ISG). Working alongside Swift's petrol engine to help improve fuel efficiency, the ISG is powered by an extra 10 Ah lithium-ion battery that is charged as the car decelerates and brakes. While cruising the battery helps power all of the additional electrical systems like safety features, air conditioning, Bluetooth and smartphone connectivity.
Hybrid efficiency
As experts in efficient small cars, the new Swift Hybrid from Suzuki is designed to save you money every day at 4.7L/100km*. Light on emissions at 106g/km, it is as affordable and as environmentally friendly as ever.
Driving on $100 of petrol
SWIFT HYBRID
4.7 L/100 km*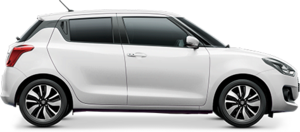 760 km
SWIFT GL MANUAL
5.1 L/100 km*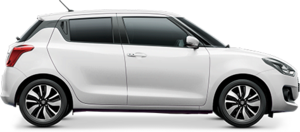 700 km
SWIFT GL AUTO
5.3 L/100 km*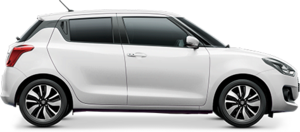 674 km
SWIFT RS AUTO
5.7 L/100 km*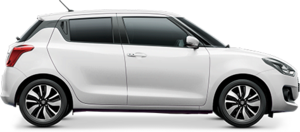 627 km
*Fuel consumption will vary due to factors such as vehicle condition, driving style and traffic conditions. Fuel economy and CO2 emission results are from 3P-WLTP conversion.
Switched on innovation
Technology in the new Swift Hybrid makes things easier, more fun, and more convenient. All the features are cleverly integrated to enhance your experience behind the wheel while the Swift's light, quiet interior impresses with a striking, modern look. So, switch on and have some fun!
7-inch touch screen
Reverse camera
Apple CarPlay and Android Auto†
Adaptive cruise control
Speed limiter
Digital running speed indicator
Engine performance and hybrid status
†Check the compatibility of your device at www.apple.com/ios/carplay or www.android.com. Apple and CarPlay are trademarks of Apple Inc. AndroidAuto is a trademark of Google Inc.
Peace of mind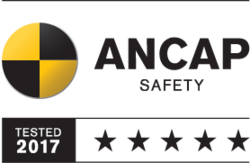 It's a busy world, so prevention and protection are essential. The new Swift Hybrid incorporates the stronger HEARTECT chassis, ESP®, ABS with EBD, LED daytime running lamps, hill hold control and the six airbag system.
In addition, the Swift Hybrid RS also comes with a suite of advanced safety technology including:
Dual Sensor Brake Support
Lane departure warning and prevention
Weaving alert
Blind spot monitor
Rear cross traffic alert
Rear parking sensors
Headlamp high beam assist
To find out more about Suzuki Swift's safety record, please click here.
*Please do not rely on the Advanced Forward Detection System. It is an aid only and the ability to detect obstacles, lanes and control the vehicle is limited. Always drive safely.
Switch up your Swift
Make your new Swift Hybrid a real stand-out. Switch it up with a range of interior and exterior accessories to suit your unique style.
Dave W, Pukekohe
I love my gadgets and the Hybrid is full of them and I even have it's name attached to the car - 6ADGET.
Read more