< News
30 Aug 2019
​The Block NZ Swift Sport Challenge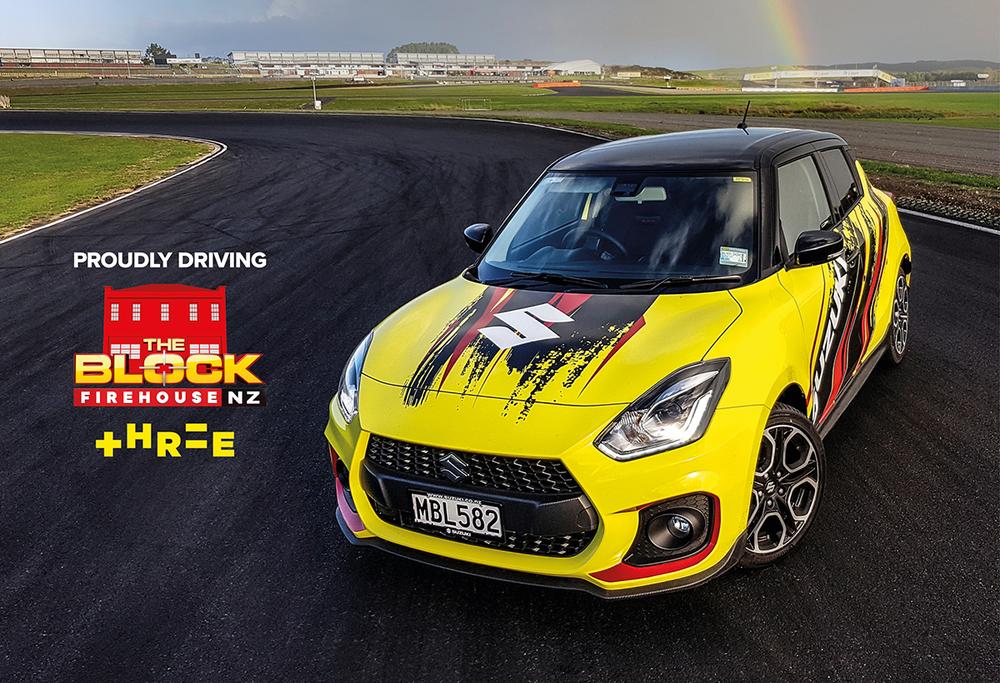 Once again, Suzuki were excited to be the vehicle supplier programme partner on Three's The Block NZ. This long-running DIY reality show followed four teams as they renovated a property room by room and completed various DIY related challenges, over a twelve week period.
This year marked The Block NZ's eighth season with their most ambitious project yet – five apartments in a 1930's fire station in the Auckland suburb of Kingsland.
As well as equipping each team with a brand-new Suzuki Vitara Turbo to help them power through their work, Suzuki hosted the Suzuki Swift Challenge at Hampton Downs MotorSport Park, where the teams were suited up and ready to go.
With the track glistening after a fresh downpour of rain, the Swift Sport made a spectacular entrance as Shelley Ferguson, one of the show's hosts, introduced the challenge. Professional rally car driver Emma Gilmour took each team around the track, offering sage pieces of advice that seemed to go swiftly out the door in the heat of the moment.
After this brief practice run it was down to business. Ethan & Sam hailing from the Waikato were up first. With some vigorous wheel squealing and keen driving, Ethan & Sam whipped around the course, recovering well from a slippery driver changeover. Their time was going to be tough to beat.
Out strode Sophia & Mikaere. It was another clean run with all of the cones left standing and some impressive work by Sophia picking up time on the straight.
It seemed the additional drive time earlier in the day did little to help Lisa & Ribz. Crucial time was lost in the double movement during the reversing portion at the changeover, putting them out of contention.
As the last team jumped into the Swift Sport, Stacy & Adam shot off the starting line smoothly and completed the course with cool, calm and calculated precision. So, who would be crowned the Suzuki Swift Sport Challenge champion?
It was down to two teams – Ethan & Sam and Stacy & Adam. With deceptively quick runs just fractions of a second apart. But in the end it was the young guns from Wellington, Stacy & Adam who proudly took the win.