< News
02 Jul 2021
On the Upbeat
Geoff Ong is an Auckland-based musician whose sound has been described as 'mainstream for misfits'. His lush, glittery retro pop grooves accompany surprisingly thoughtful lyrics – proof that pop can transcend.
It's somewhat surprising, coming from a self-professed introvert, that Geoff's musical ambition is to connect and bring people together – especially those who normally feel excluded. Often introverts, misfits and those who feel they don't quite fit, find solace in angsty, angry soundscapes. Instead, Geoff offers up irresistible beats blended with bright, positive vibes.
Pushed into music at the tender age of 3, Geoff didn't much like piano lessons. At 13 a friend introduced him to the guitar and he knew he'd found his calling. With his grounding in chords he taught himself, practised hard and was a fast study. According to Geoff it was inevitable that he would be in a creative field. "I just love making stuff," he enthuses. "I'm also into photography and video but music is what I connect with most."
Being a quiet type you have to wonder how Geoff copes on stage. In person he seems almost shy, but he lights up when he's describing his gigs; "My live performance is high energy. Coming from a place where I feel I don't fit in, I want people to feel like they're involved, like they're part of the show and connecting with each other. So I never feel like I'm entertaining individuals – I don't feel that pressure or awkwardness."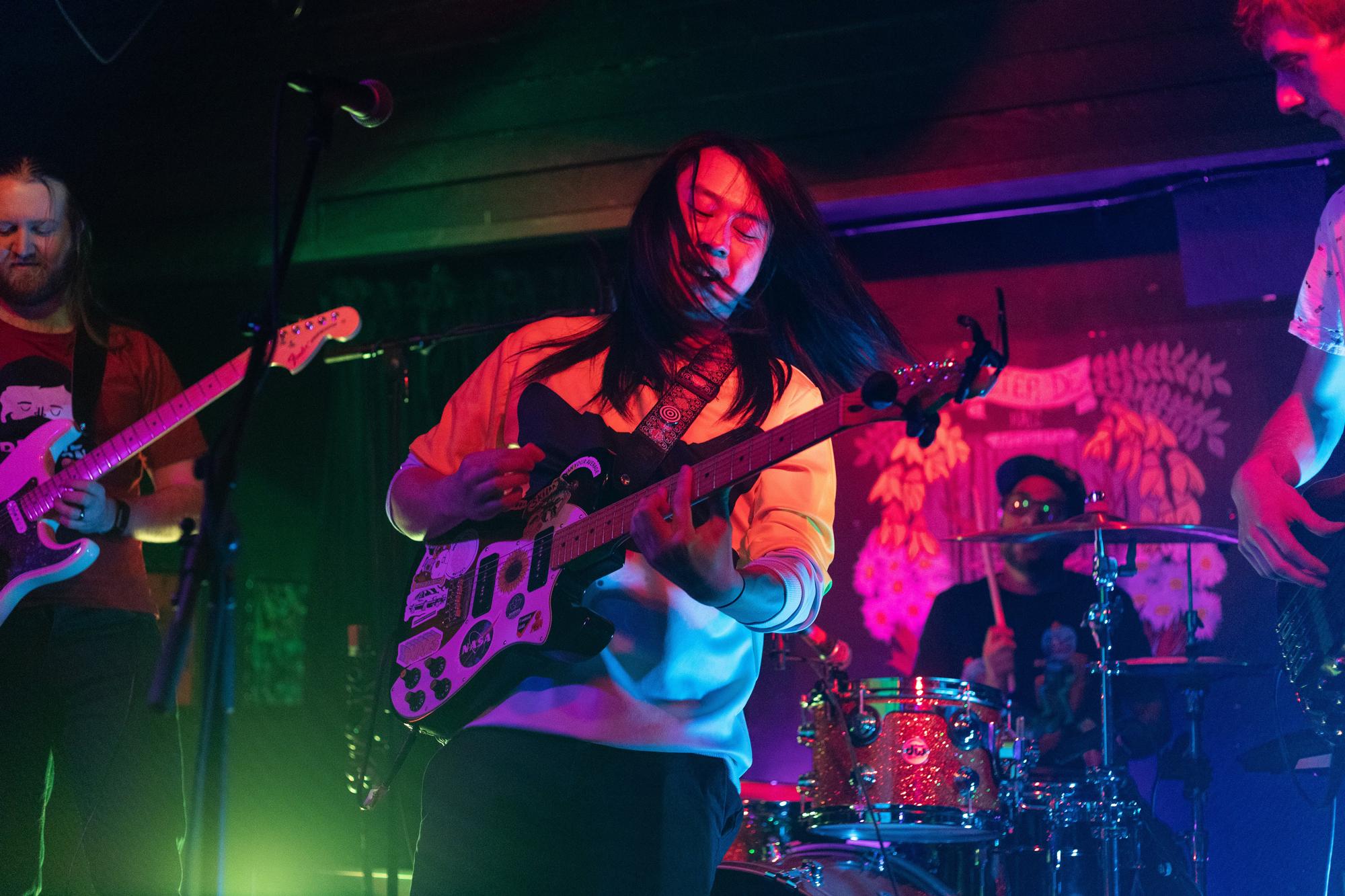 Geoff writes and composes solo but performs live with a trio of close friends. As well as guitar and piano he plays bass, drums and the trombone. Trombone? Geoff laughs, "Yeah, it's great for getting gigs and recording sessions as there aren't too many around!"
Far from finding New Zealand a challenging place to kick off a music career, Geoff has nothing but love for the Kiwi music community. "It's amazing. Everyone is in there trying to do the same thing – create music and connect in a meaningful way." Geoff draws inspiration from close friend MAZBOU Q (hip-hop), Foley (pop duo), IMUGI (synth pop) and Kiwi indie pop band The Beths (who's single "Happy Unhappy" was named song of the summer by Rolling Stone magazine).
Outside of music, photography and video, Geoff's passion is cars. He currently drives a bright yellow Swift Sport. "I've previously only had older used cars, so getting into something new felt very fancy!" says Geoff. "I was looking for something with a bit of fun and character – I like things that are interesting and kind-of quirky. The Swift fits all my gear when I'm playing gigs and doing shoots. It's economical, it's small enough to park pretty much anywhere, and it's just loads of fun to drive!" Geoff adds "Probably my favourite thing is the gearbox. I'm a real car nerd so I love the 6-speed manual. There's something so engaging about trying to make every gearshift as smooth and perfect as possible."
Where to next for Geoff Ong? "I've always got songs on the go. I try to release every couple of months. I put out my first full length album in November last year – perhaps I'll do a second next year, we'll see what happens. Long-term it'd be cool to do a national tour."
To hear what this thoughtful, multi-talented Kiwi artist has to offer, search for Geoff Ong on Spotify, YouTube, Instagram or Facebook. If you're lucky you can catch him live at his favourite venue Cassette 9, just off Auckland's Queen St.