< News
20 Aug 2020
​Living big in a small space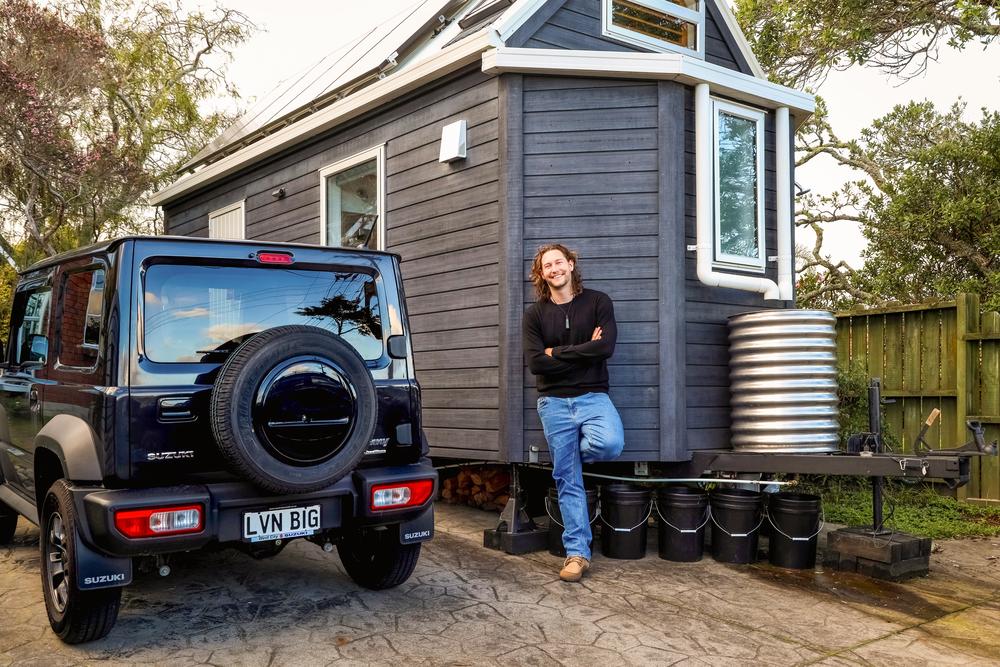 In Disney's 'Aladdin' Robin Williams sums up the juxtaposition of tiny houses; "PHENOMENAL COSMIC POWERS! Itty-bitty living space!" Through clever design tiny houses really are magical and, as Bryce Langston has discovered, they can give their owners enormous personal power and independence.
Bryce has become one of New Zealand's foremost tiny home experts. While designing and building his own abode, his life took off in a new direction. Together with his partner Rasa he started a Youtube channel and now travels the world filming tiny homes and their owners.
So why go small? With Auckland house prices rocketing Bryce says it began with budget but quickly became about a whole lot more. "I imagined the freedom of living without a mortgage or rent payments. I wanted a house that would be off-grid and low impact, built from sustainable, locally sourced materials."
While popular in post-recession America "there wasn't much of a movement in New Zealand" says Bryce. "So we had to lead it and make it work for our unique conditions and regulations. It was definitely a learning experience, but ultimately it was incredibly rewarding."
The couple did have some expert help. "Johann Bernhardt was great" says Bryce. "He works with BBE – the Building, Biology and Ecology Institute in Welly. He's an expert in sustainable design and helped us build a safe, dry, warm home."
Small. Simple. Beautiful.
Located in North Shore, Auckland, the house is constructed with typical Kiwi materials, steel framing and weatherboard. Except it's just 15m2 plus a sleeping loft – and it sits on a trailer so technically it's a caravan. Ironically Bryce says if he could change one
thing, it would be smaller. "It fits the legal land
transport dimensions but I'd make it even more compact so it would be easier to move."
At just $100,000 the house cost about 90% less than the Auckland average. And it's completely off-grid with power supplied by solar panels.
By minimising our footprint we're able to maximise our lifestyle
Bryce says another advantage of tiny homes is resilience. "In tough times people with expensive houses get stressed. But if you've got a small home and low overheads you have security."
Bryce drives a 2019 Jimny Sierra he purchased from Steven at Westcity Suzuki. He says he and Rasa love the Jimny for the same reason they love their tiny house. "It's small, affordable, compact and efficient with lots of technology for the price." As he often films in remote locations Bryce says he needed a capable vehicle. "Jimny ticked all those boxes and fits into our lifestyle. It's practical, fun and funky!"
If you're interested in learning more about tiny houses, look up Our urban tiny house in New Zealand on Youtube or visit Livingbiginatinyhouse.com