< News
08 Mar 2019
Greater safety and more refinement in the New Facelifted Suzuki Vitara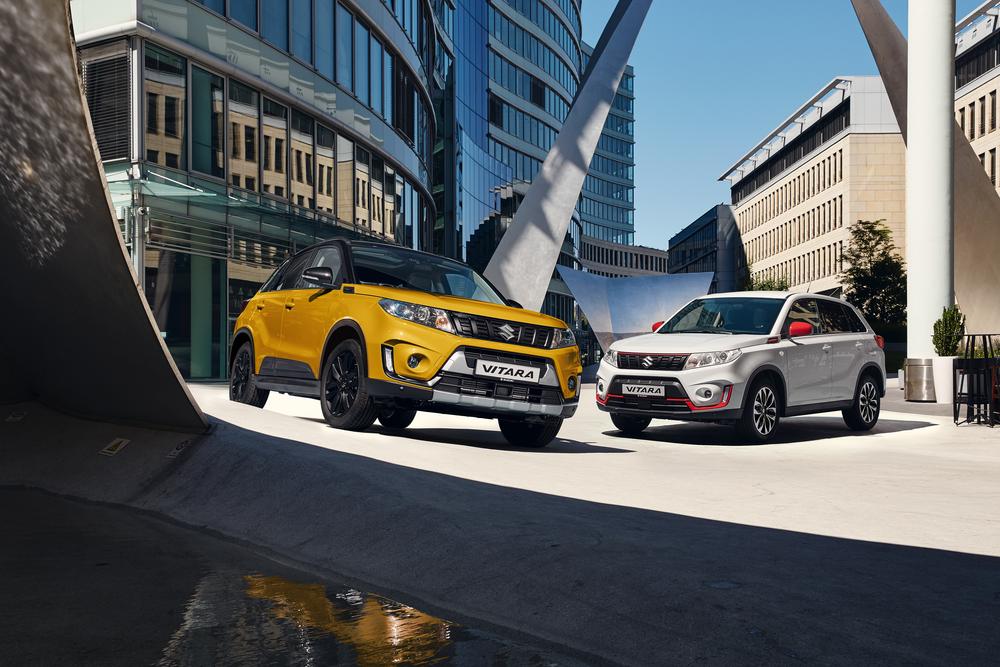 The popular Suzuki Vitara five door SUV has been given further enhancement and added safety features with the arrival of the more cultured and more urbane 2019 facelifted version.
With the newly added equipment and no changes to pricing, the latest Vitara is not only better value for money but is also the most technically advanced Suzuki car to date.
In its latest upgraded form, the Vitara is distinguished by new vertical chrome accents on a five-slotted grille, replacing the vertical slats used previously. There are changes to the lower section of the front bumper, a reshaping of the rear skid plate while revised rear combination lamps now incorporate LED lights.
Suzuki has refreshed the body colour choice through the addition of two new colours with bright Solar Yellow Pearl Metallic and Ice Greyish Blue Metallic. Both new colours come with a Cosmic Black roof.
Inside both quality and style have been upgraded with boldly designed and accented instrumentation and a new 4.2-inch colour LCD in the meter cluster. This provides new telemetric data plus on the AllGrip models shows four wheel drive mode and hill descent control animations.
The renewed instrument cluster also includes a restyled clock and the tactile soft-touch padding above the instruments adds to the overall quality. There are brighter silver accents on the dashboard, doors and centre console and more a metallic looking geometric pattern on the silver panel across the fascia.
In the Turbo versions, new suede seat pattern deeply embossed with geometric patterns have leather effect supports and the facelift models also feature a new front centre armrest with console box.
The fully advanced forward detection system and rear cross traffic alert are added to the more powerful Turbo versions as standard equipment. Suzuki developed the forward detection function that employs a state-of-the art monocular camera, laser sensor, and millimetre-wave radar with the aim of aiding the driver to avoid a collision or mitigate the damage.
This advanced system includes dual sensor brake support (DSBS), lane departure warning, weaving alert and adaptive cruise control. DSBS incorporates a camera that "sees" mid-to-long distance and can detect pedestrians. It also has a laser sensor for short distances and at night. Using information from these sensors it can detect a potential collision and act accordingly with autonomous emergency braking.
At speeds over 60 km/h, Vitara's lane departure warning predicts the course of the vehicle and if the driver inadvertently drifts, the steering wheel vibrates and a visual warning is given. In an instance of driver fatigue, for example, the warning alert calculates the car's driving pattern and issues audio and visual warnings.
Adaptive cruise control on the Vitara uses millimetre-wave radar to automatically maintain the following distance depending on the setting selected and vehicle speed. Parking sensors and blind spot monitoring also aid safety.
Lane changing at speeds above 15 km/h is made safer by two rear mounted side radar sensors capable of detecting vehicles located in or approaching the rear blind spots on either side of the vehicle. When another vehicle is detected a warning LED icon is illuminated in the exterior heated mirror. If the driver indicates to change lanes, a flashing LED icon is accompanied by a warning sound alert.
The new rear cross traffic alert allows the driver to manoeuvre more safely out of parking spaces where vision is impaired. When reversing, at speeds up to 8 km/h, the vehicle uses two rear mounted side radar sensors to assist the driver by both a visual and warning alert.
Offered with the choice of either two or four wheel drive, the well-equipped 4.175 metre long Vitara comes as standard with 17-inch aluminium alloy wheels fitted with R17 215/55 series tyres, keyless entry, LED daytime running lights and rear privacy glass. The centrally located 7-inch touchscreen features voice-actuated audio, navigation, smartphone connectivity and reversing camera. Hands-free Bluetooth and USB function plus Apply CarPlay and Android Auto are standard on all versions.
Key driving information is provided on the 4.2-inch LED colour display located directly ahead of the driver between the speedometer and rev counter. This illustrates the drive mode, engine output, engine torque, driving range, fuel consumption and trip details. The cruise control and speed limiter function monitor maximums or appropriate speeds for safe driving.
Vitara comes with a glowing 5-Star ANCAP safety rating and seven air bags, while automatic versions are equipped with hill hold control for ease of driving, especially in city and urban situations. The four-wheel-drive option offers easy ALLGRIP selection for the auto, snow, sport and lock modes.
As before, two engine options are available, with the normally aspirated 1,586 cm3, 86 kW multi-point injection motor in the JLX, and the 1,373 cm3, 103 kW direct injection turbocharged power plant in the flagship version. The Vitara Turbo is renowned for its spirited performance and outstanding class-leading engine torque that results in smooth and flexible motoring.
"The current Vitara range already provides a great combination of style, performance, and fuel efficiency. The addition of advanced safety features on the Turbo version and upgrades to exterior design and interior appointment makes the new 2019 Vitara range an even more compelling proposition," said Gary Collins, General Manager of Marketing for Suzuki New Zealand.
Recommended retail prices, plus on road costs, start from $27,990 and Suzuki offers a wide range of Vitara factory accessories that enable personalisation of the car.