< News
05 Mar 2019
GIXXER Cup racing has the crowd spellbound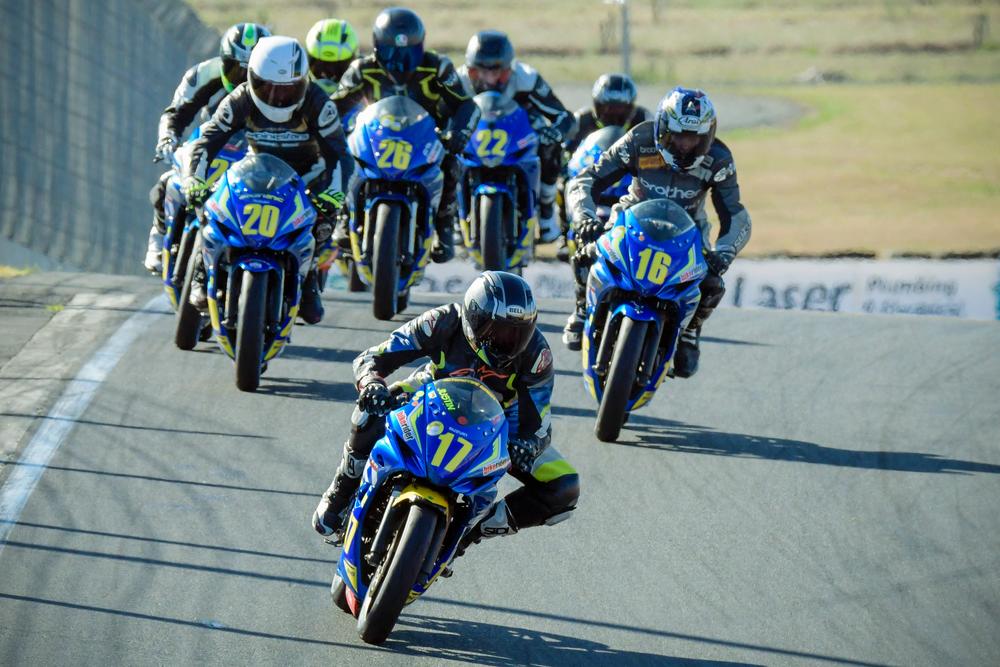 Just when you thought the racing could not get any more thrilling, the GIXXER Cup riders click into another gear.
"You've got to watch the GIXXER Cup racing" and "the closest action you will see all weekend" were just two of the comments overheard at Hampton Downs at the weekend, the venue hosting the third round of five in this season's New Zealand Superbike Championships.
The GIXXER Cup class, introduced to the New Zealand motorcycling scene for the first time in 2017, is reserved for riders aged between 14 and 21 years, with all of them competing on identical Suzuki GSX150F bikes.
Because it's a level playing field in this "motorcycling nursery ground", the cut and thrust racing has been about as feverish and frenetic as it can get, although it is Waikato youngster Jesse Stroud who seems to have made the best of it so far.
The Hamilton 16-year-old enjoys a massive 38-point advantage over Taupiri's Zak Fuller at the top of the series standings for the GIXXER Cup. Stroud also collected the all-important TT Trophy, the third GIXXER Cup race of the weekend being designated as the TT race.
Currently third overall in the series, and another 14 points further back, is a young man dubbed "The West Coast Warrior", Greymouth's Clark Fountain, while Feilding's Justin Maunder and Sanson's Shane Miller round out the top five.
While the points gaps between these riders may seem considerable, they in no way reflect just how close the racing has actually been, not to mention the close camaraderie in evidence between GIXXER Cup riders and their families off the track.
Stroud and Fuller were never more than a bike length apart all weekend, with the lead changing many times over both days of racing, while a gaggle of between five and seven GIXXER Cup riders fought furiously over the third podium position for the round, that eventually going the way of South Island rider Fountain.
The Stroud surname has long been associated with motorcycling glory in New Zealand, with Hamilton's Andrew Stroud a record nine-time national superbike champion for Suzuki, and now it's the turn for his children to step into the spotlight.
While Jesse Stroud leads the way in the GIXXER Cup competition, his elder brother Jacob Stroud is on fire in two separate categories, leading the Supersport 300 class by 40 points from Timaru's Harry Parker and also leading the Superlites class by 18 points from Christchurch's Dennis Charlett.
Another Stroud sibling, Caleb Stroud, is running eighth overall in the GIXXER Cup races.
"It has been a pretty busy weekend and so much fun battling away," said Jesse Stroud, a year 12 pupil at Hamilton Boys' High School.
"I have a good lead now but I think I need to keep putting points in the bank because nothing is guaranteed. In any of these races there might be seven or eight riders there to snatch the win in the last corner.
Meanwhile, in the premier 1000cc superbike class it is two Suzuki men who currently lead the way, Taupo's Scott Moir 18 points ahead of Glen Eden's Daniel Mettam.
Mettam (Suzuki GSX-R1000) won the weekend at Hampton Downs, also claiming the TT Trophy honours along the way, to propel himself from fifth to second in the standings, while Moir (Suzuki GSX-R1000) bounced back from the disappointment of not finishing race one, to remarkably score enough points in his next two outings to wind up second overall for the weekend and keep his series lead intact.
Other class leaders after the weekend are Manukau's Toby Summers (Supersport 600), Papamoa's Leon Jacobs (250 Production class); Christchurch's Nick Cain (650 Pro Twins, provisional); Australia's Yanni Shaw (125 GP) and Christchurch's Dennis Charlett and Will Clim (sidecars).
Other TT Trophy winners on Sunday were Rangiora's Avalon Biddle (Supersport 600), Auckland's Nathanael Diprose (Supersport 300 class); Jacobs (250 Production class); Jacob Stroud (Superlites); Whangamata's Ben Rosendaal (650 Pro Twins, provisional); Shaw (125 GP); Jesse Stroud (GIXXER Cup) and Auckland's Peter Goodwin and Waitoki's Louise Blythe (sidecars).
The 2019 New Zealand Superbike Championships' fourth round at Manfeild is set for March 30-31, with the series wrapping up at Taupo on April 6-7.
Words and photo by Andy McGechan, BikesportNZ.com