< News
12 May 2021
Affordable AWD Suzuki Models move to the fore as wintry weather arrives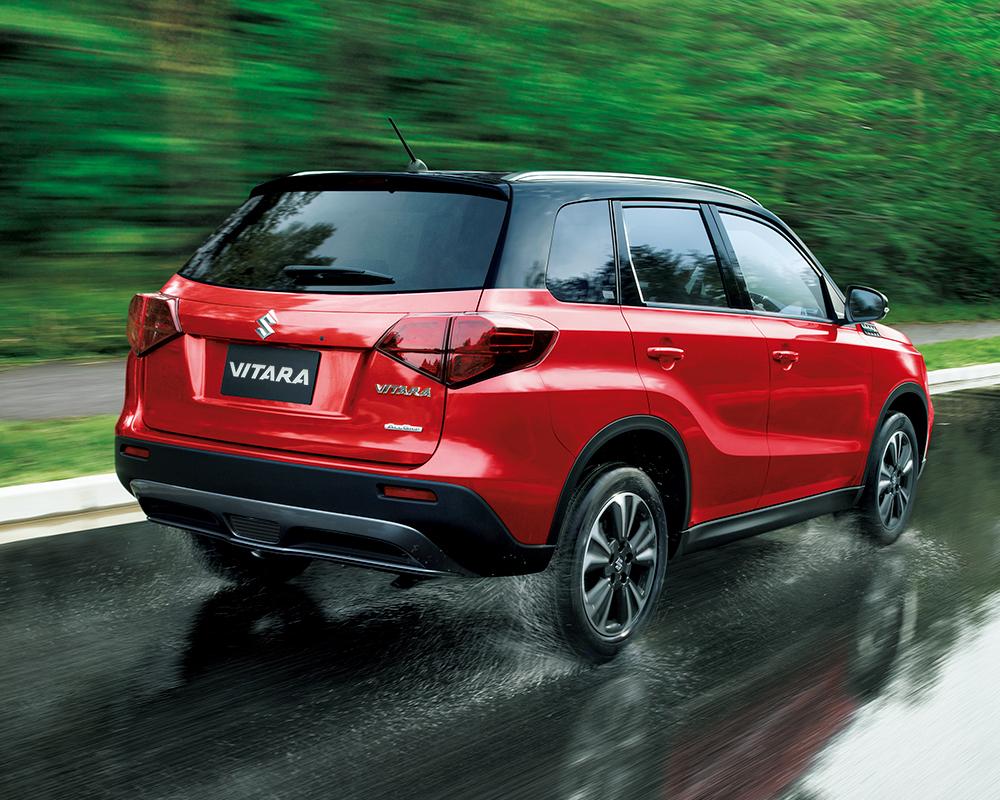 The arrival of wintry weather and slippery roads has highlighted the strengths of Suzuki's affordable compact all wheel drive SUV models.
Four wheel drive adds confidence, stability and safety in everyday motoring and never more so than when weather conditions deteriorate or suddenly become changeable. Suzuki offers six well equipped part time AWD variants in three model ranges of compact SUVs, all priced at less than $40,000.
Significant advances in body weight design and smaller capacity engines have allowed Suzuki to provide the safety and off-road benefits of four wheel drive with often better fuel efficiency than 2WD competitor models in the market.
The popular fourth generation Vitara Turbo All Wheel Drive (AWD), matched to a 6-speed automatic transmission, achieves a thrifty 6.2 litres/100 km in the official ADR combined cycle fuel test over suburban and open road conditions.
There is the option of the five door 1.6 litre JLX AWD Vitara at a recommended retail price of $33,990, plus on-road costs, or the more powerful 1.4 litre Turbo AWD Vitara at $37,990, both with automatic transmission as standard.
The stylish five door Suzuki S-Cross shares its platform with the Vitara and is a cross between a hatchback, station wagon and SUV. With class-leading 440 litres cargo capacity, extending to 875 litres when the rear seats are folded, the $33,990 1.6 litre LTD AWD S-Cross presents a compelling all-round package.
The Vitara and S-Cross offer the Suzuki AllGrip Select system with an 'Auto' setting for efficient city, urban and open road driving, 'Snow' to suppress wheelspin and provide traction on slippery and snowy roads, and 'Lock' which feeds torque to the rear wheels for maximum traction when negotiating muddy or sandy surfaces, proving a near 50:50 power allocation. Finally, the 'Sport' setting gives more powerful response when needed.
The part-time AWD positions a transfer case between the driveshafts running from the front and rear differentials, and uses it to switch between two wheel drive and four wheel drive as required. For most normal driving in the 'Auto' setting the transmission switched to AWD only when necessary.
Smallest and most rugged of the Suzuki SUV models is the unique and sought after, three door Jimny which is available in three variants for the New Zealand market - the $26,990 1.5 litre JX manual, $29,990 1.5 litre Sierra manual and $30,990 1.5 litre Sierra auto.
The Jimny is the result of more than half a century of four wheel drive development by Suzuki that began with the original LJ10 in 1970. Now the latest fourth generation Jimny has been described as "an icon of automotive simplicity".
No other compact 4WD has all the features of the Jimny which boasts a full ladder chassis for rugged off road or difficult surface conditions and high 210 mm ground clearance. Jimny's Allgrip PRO drive system has the versatility of low range 2WD, Hi & Low range 4WD and 4WD Lock, hill hold control, hill descent control and limited slip differential (LSD) traction control.
The flagship Vitara Turbo benefits from Suzuki's direct injection motor that equates to less fuel and lower emissions. This 103 kW power unit has a waste gate, a special valve controlling turbo boost pressure to prioritise fuel efficiency or dynamic performance. In town or urban driving and gentle highway running, the waste gate opens for more fuel-efficient operation.
For more acceleration and livelier response the valve closes to increase boost pressure, delivering instant performance and power.
Arriving with a comprehensive specification as standard, the Vitara Turbo is high on safety technology with dual sensor braking support, lane departure warning, weaving alert, blind spot monitoring, rear cross traffic alert and reversing camera.
Named winner of the NZ 4WD Compact 4WD SUV of the year in 2020, the Vitara has been praised for its practical body design. No tapering of the rear section of the body allows easy access to the rear seating, and owners like the higher ride height, taller doors and shorter sills.
"Road oriented all wheel drives like the Vitara and S-Cross provide an easy transit from city to country roads and offer a greater degree of safety when road conditions suddenly change," said Gary Collins, General Manager of Automobile Marketing for Suzuki New Zealand. "And the 'go almost anywhere' Jimny is not only hugely competent when the going gets really difficult but also a lot of fun."
"Suzuki has been a pioneer in developing compact AWD models, not only with the Jimny but also the first generation Vitara that launched here in 1988 as a clear trend-setter," said Collins.
All the Suzuki models are backed by a five year powertrain warranty and comprehensive three year, 100,000 km new vehicle warrant, plus a five year roadside assistance programme.