Globally recognised, long time local
Suzuki is one of the world's most successful automotive brands, enjoying a reputation as an innovative leader in compact car, motorcycle, marine and 4WD technology. The Suzuki brand symbolises outstanding quality and value for its millions of customers throughout the world.
In 1984, the Suzuki Motor Corporation purchased the assets of South Pacific Suzuki Distributors, owned by the Coleman family of Whanganui, to form Suzuki New Zealand Limited. In addition to importing Suzuki cars and motorcycles, the Company operated a vehicle assembly plant until 1988, when changes within the New Zealand market led to the end of local assembly.
Three top-class dealer networks operate across the country, one for cars, one for motorcycles and one for marine. Suzuki's customers can expect a high level of service and care from a small group of franchised owners who value being part of the Suzuki family.
Suzuki now offers a wide range of small cars and SUVs, including New Zealand's most popular small car, the Suzuki Swift, to the class-leading Vitara range. It is one of New Zealand's top selling motorcycle brands, with an extensive range of motorcycles from 50cc scooters, to competition-winning superbikes like the GSX-R1000.
Suzuki branded ATV are recognised for their ruggedness and reliability, and their ability to handle the demanding conditions of New Zealand's high-country farms. In fact it was right here on a New Zealand farm that the Coleman family and Suzuki created the first ever 4-wheel ATV.
Our mission statement
1. Develop products of superior value by focusing on the customer
2. Establish a refreshing and innovative company through teamwork
3. Strive for individual excellence through continuous improvement
A message from Suzuki Motor Corporation
The Group has been carrying out the motto "Develop products of superior value by focusing on the customer" in the first paragraph of its mission statement. With the slogan, "Small Cars for a Big Future", the Group commits itself in promoting "production of small and subcompact vehicles" and "development of environmentally benign products" needed by customers. The Group makes efforts to be "Smaller, Fewer, Lighter, Shorter, and Cleaner" on every side and works for the efficient, well-knit and healthy management.
To find out more about Suzuki Motor Corporation, click here.
More than just a brand
Today, the Suzuki name is seen on a full range of motorcycles, automobiles, outboard motors and related products such as motorized wheelchairs and industrial equipment. The 'S' trademark is recognized by people throughout the world as a brand of quality products that offer both reliability and originality. Suzuki stands behind this global symbol with a sure determination to maintain this confidence in the future as well, never stopping in creating such advanced 'value-packed products'.
Dedicated and proud
At Suzuki, every product is built with meticulous attention to detail and gets the care of personnel who allow only their best work to leave the factory. From the forming of steel body parts to the final assembly, the full production process is under accurate computer control. Robots do the welding, painting and other critical operations with unwavering precision. And the spirit of the human workers in the factory is equalled by their drive for high quality products.
Advanced facilities and efficient production​​
Suzuki employ the most modern factory equipment and technologies to deliver 'value-packed products'.Today, the concept of "Smaller, Fewer, Lighter, Shorter and Cleaner" has been extended to our global network of production bases, where we are continually enhancing productivity, strict quality control and responding to environmental issues.
Connected worldwide
Suzuki products are popular in 204 countries and many regions worldwide, with local assembly plants and distributor networks. As these subsidiaries grow, local economies as well as the local communities flourish. The Suzuki family actively contribute to local industrial employment and economic expansion on a global scale.
Research and development for the next generation
Suzuki develops "value-packed products" for the new generation and changeable lifestyles, constantly creating new technologies and applying them to the products with affluent imagination. Applying this philosophy and approach to our research and development, the Suzuki covers a wide range of the latest advances in such fields as energy, environmental, electronics, communication, information and control applications. All this R&D energy is devoted to the output of products that meet the challenge of the next generation.
A new journey begins
After our cars leave the factory they start their own lives. Every one of them is used for a different purpose and driven to different destinations. We learn from our customers and gain inspirations from the different lives and adventures. That is why Suzuki cars are durable, well-crafted and reliable, packed with performance and value, yet always fun.
View the range of Suzuki small cars
The rider and the machine
Every person enjoys motorcycles in different ways ー highway touring, rough-road trailing, circuit racing and much more are all part of the motorcycle scene. Yet no matter what the activity may be, the motorcycle must complete a bond between man and machine. Suzuki does that by carefully designing motorcycles to meet the criteria of various types of riders. With more safety, comfort and performance, everyone from the daily commuter to the circuit-ready expert can find satisfaction on a Suzuki.
View the range of Suzuki motorcycles
View the range of Suzuki farm bikes and ATVs
The Ultimate Outboard
With the rich history of nearly 100 years, 2020 marks our 100 year anniversary, and the experience and knowledge of automobile, motorcycle, and outboard motor development, Suzuki has come to provide technology and service unprecedented in the marine business. And with the "Yaramaika" spirit, Suzuki has grown to create innovation and satisfaction to customers around the world.
Caring for our environment
Caring for the environment
Suzuki is actively promoting environmental conservation in order to hand over the beautiful earth and affluent society to the next generation. As one of our environmental protection efforts, we established the "Suzuki Environmental Plan" that demonstrates our voluntary goals of environmental conservation.
Every part of the Suzuki Group around the world is addressing the following four key areas outlined below.
1. Suppression of Global Warming
We are developing vehicles with class-leading fuel economy and next-generation vehicles in order to reduce the CO2 emissions that exacerbate global warming. We are also striving to maximize energy savings in our production and logistics operations, such as by operating a 20MW solar power plant, and working in our corporate activities.
2. Promotion of Environmental Conservation
We strive to reduce our environmental impact with respect to atmospheric pollutions and substances of concern.
3. Promotion of the Three Rs
In an effort to employ easy-to-recycle materials for exterior and interior resin parts and recycle cardboard, we strive not to waste resources in any area of our operations. We thereby contribute to efforts to realize a sustainable and recycling-oriented society.
4. Working with the Community
As a member of society, we engage in environmental communication with a wide range of stakeholders so that we can work together to develop a society in harmony with the natural environment.
We publish the Suzuki Environmental & Social Report every year since FY1999, describing our policies and activities toward environmental conservation and corporate social responsibility (CSR). Also, in order to minimize the effect of anticipated damage caused by disasters such as the Tokai and Tonankai earthquakes, provisions for dispersing its corporate risks are being carried out. Such provisions are quake- and fire-proof measures to its buildings and facilities, and establishment of business continuity plan (BCP).
To help create more long-term value for our customers we are committed to environmental conservation both in the design of our products and in the way we operate our businesses throughout the world. The Suzuki fleet is among the most fuel-efficient with the lowest CO2 emissions in the world.
Our manufacturing plants make full use of natural resource recycling, regeneration, and the advanced utilisation of waste, adhering strictly to a tenant of Reduce, Reuse and Recycle. In March 2002 Suzuki established its Global Environment Charter as its standard concept for environmental activities, within which it promotes a wide range of environmental policies throughout the Suzuki network.
Strict environmental standards
Suzuki has developed far-reaching policies that affect every part of its business, from management to manufacturing, distribution to disposal. These policies are designed specifically to maintain or improve upon environmental management systems and reduce environmental pressure that may result from business activities and products.
Improving fuel economy
With its focus on compact vehicles, Suzuki has possibly the most efficient overall fleet of any modern car company in the world today. Major advances in fuel economy are being achieved by improving engine efficiency, drive systems, vehicle weight, and reducing air resistance.
Reduced emissions
All Suzuki vehicles meet or exceed current emission standards and are nearing proposed 2015 standards well ahead of time. Several models, including the Suzuki Swift, have gained Super Ultra Low emissions (EURO 4-star certification) and have managed to achieve a 75% reduction in emissions in the past three years alone.
Reduce, reuse, and recycle
Suzuki is at the forefront of recyclable vehicle design, employing recyclable materials in exterior and interior resinous parts. This is an important development that allows for easy recycling of end-of-life cars.
Developing the use of clean energy
Suzuki is a member of the national JHFC (Japan Hydrogen and Fuel Cell Demonstration) project and is working toimprove the durability and range of its revolutionary new fuel-cell electric vehicles. In 2003 Suzuki gained certification for the development of its compact fuelcell vehicles, and in 2004, for the first domestically produced hydrogen powered vehicles. Leading the charge is the fuel-cell powered SX4-FCV (pictured).
Helping you help yourself
Most new Suzukis have an instantaneous fuel use gauge to help you monitor your fuel consumption as you drive. What this means is a greater understanding of fuel efficient driving and a on-going indication of your new Suzuki's fuel consumption. Helping you help yourself to drive more fuel efficiently and in-turn being kinder to the planet.
100 years of innovation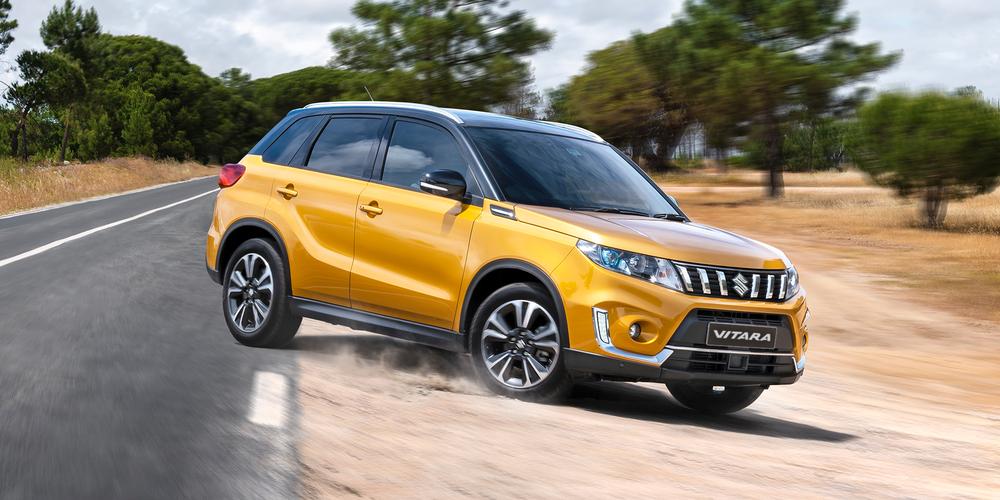 It may be a little known fact in this part of the world, but Suzuki is one of the biggest car makers on the planet today, with a proud history that reaches back over 100 years.
From its early beginnings as a small private company in turn-of-the-century Japan, to its celebrated position as one of the world's leading automotive innovators, the Suzuki story makes interesting reading.
Check out our timeline to discover some interesting facts about the first century of Suzuki, both here in New Zealand and around the world.