Turn it up
Stand out from the crowd. Drive the only super compact SUV, the new Suzuki Ignis. Fun, functional, and unique, the Ignis is as comfortable in the city as tripping around the country. With loads of space, a high seating position and incredible fuel economy, every journey is one worth taking.
Ignis GLX MANUAL
$21,990 +ORC
Ignis GLX AUTO
$23,500 +ORC
Ignis LTD AUTO
$24,990 +ORC
Turn on the technology with
Smart phone connectivity
Everything you need at your fingertips
SAFE AND SOUND
REVERSE CAMERA
Park easily and safely with 9 inch display
Super economical
4.7-4.9 LITRES PER 100KM
So long between fill-ups you'll forget where the fuel cap is
*ADR 81/02 results for combined cycle
The Government's Clean Car Discount Programme is currently available for electric and plug-in hybrid vehicles. Whilst Suzuki's affordable range of vehicles do not qualify for a rebate at this time, rest assured each Suzuki has been designed with maximum fuel efficiency in mind. Suzuki offers the lowest average CO2 emissions of the top 10 manufacturers in New Zealand, making it a brand you should consider on your car buying journey.
Buy new and worry-free with
No deposit finance available now!
DRIVE AWAY IN A NEW IGNIS TODAY
Unlike anything
First impressions count and this funky SUV knows it. Unlike anything else, the new Ignis is a distinctive blend of cool, up-beat and out-of-the ordinary. Its silver roof rails, bold front grille with fog lamps and LED daytime running lamps (LTD) make the Ignis a real head turner.
Turn on technology
Plan your trip, cruise along, call your friends, and turn on your favourite tunes in the new Ignis. It's as easy as tapping the 7-inch touchscreen infotainment unit complete with Sat Nav, Apple CarPlay®, and Android Auto™ (GLX CVT & LTD) or using the steering wheel controls. Set your own steady pace with cruise control or the speed limiter.
*Check the compatibility of your device at www.apple.com or wwww.android.com. Apple and CarPlay are trademarks of Apple Inc. AndroidAuto is a trademark of Google Inc.
Up the performance
Your heart wants fun, but your head wants functional. Well, with the new Ignis you get both! Its standout body shape is built on a light yet rigid platform offering excellent road comfort and tight turning ability.
The compact 1.2 litre engine with DualJet technology is responsive, agile, and highly efficient and with either a 5 speed manual or advanced CVT transmission, you'll be lighting up the streets in no time.
Super-economical at the pump
Available in two transmissions, an automatic Continuously Variable Transmission (CVT) and a 5 speed manual, the adventurous Ignis is just as ready on the open road as it is around town.
Its 1.2 litre VVT engine with DUALJET technology combined with a light-weight frame give the new Ignis the fuel efficiency of just 4.7L/100km*, and its compact size make the Ignis ideal for taking on sharp corners or u-turns with steering lock to spare.
Driving on $100 of petrol
Ignis GLX Man
4.7 L/100 km*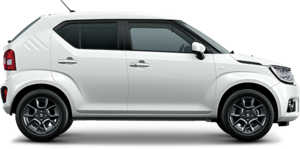 1064 km
Ignis GLX/LTD Auto
4.9 L/100 km*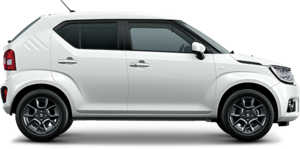 1020 km
OTHER SMALL SUVS
6.7 L/100 km*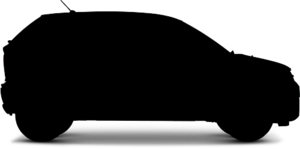 746 km
Other Small SUVs combined fuel economy figure of 6.7 L/100 km is an average of all competitors in the Small SUV segment for 2020 according to the NZTA. *ADR 81/02 results for combined cycle. Fuel consumption will vary due to factors such as vehicle condition, driving style and traffic conditions.
Comfortably spacious
Don't be fooled by the ultra-compact size — the Ignis is perfect for a getaway or running around day-to-day. Super comfortable with its high seating position, the Ignis is easy to get in and out of, providing superb driving visibility and spacial awareness. Plus the rear seat slides forward or backward to increase either rear passenger legroom or luggage space (LTD).
Every day safely
Get out and explore or simply enjoy the ride with peace of mind thanks to the Ignis's advanced safety systems and driving features. You and your passengers are well protected with six airbags and Suzuki's TECT (Total Effective Control Technology) high rigidity frame incorporating high-tensile steel for structural integrity. Prevention is equally essential with features such as Electronic Stability Programme (ESP), ABS with EBD, cruise control, speed limiter, and reverse camera (GLX CVT, LTD), Wherever life takes you, the Ignis will make sure it's a safe one.
Janet M, Waitakare - Auckland
My Ignis is my little freedom pod, which I can just jump into and drive away in whenever I feel like going to the beach, or going to the shops.
Read more