< News
13 Mar 2021
Top 5 Accessories for your Suzuki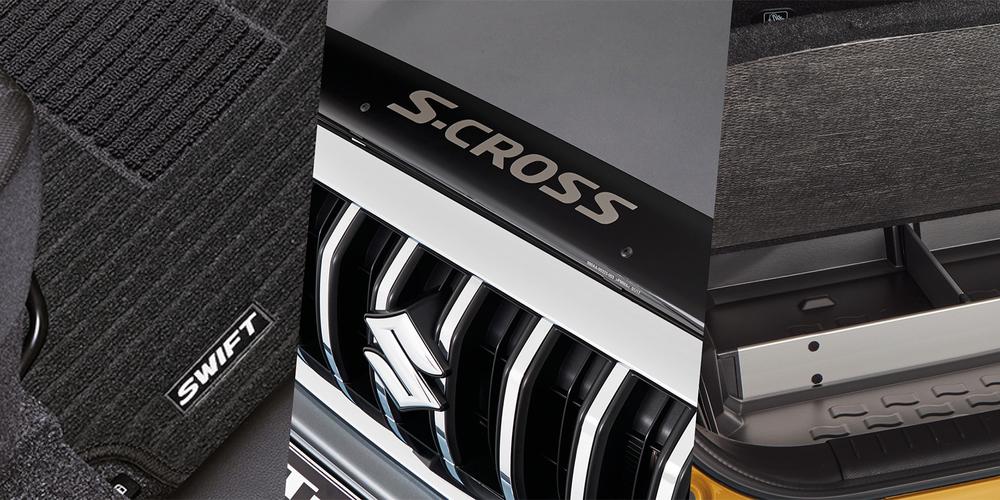 Whether it's for safety, entertainment, or to protect your car, the right accessories can make a huge difference. These are our favourites based on practicality and value for money:
Phone Holder
Keep your hands on the wheel with a simple mount for your smartphone, or choose added features like a built-in charger and juice your phone on the go. Some use suction mounts that attach to your dashboard or windscreen, others clip onto air vents.
Floor Mats
Mats are a must. From mud to crumbs to spilled coffee, your car floor is going to have a lot thrown at it. Most mats will protect
your carpet from general wear and tear.
For SUVs or if you're likely to have muddy or wet shoes, rubber floor mats offer a more durable solution.
As well as being easy to remove and clean, a good set of car mats can add slip resistance and improve the look of your car. Suzuki offer a range of branded mats that will fit your Suzuki perfectly.
Bonnet Protector
Your front end is most vulnerable to chips from stones thrown up by other vehicles, and once paint is damaged it can lead to corrosion. Paint condition is one of the major influencers on re-sale so a bonnet protector is a great investment. Clear protectors are nearly invisible or you can change the look of your car with a tinted version. For the best fit Suzuki have options specifically designed for each model.
Cargo Organiser
Umbrellas, shopping bags, drink bottles, netballs, muddy boots… your car boot is probably home to a huge range of different items. A cargo organiser prevents mess and stops things rolling around in the back of your car. There are plenty of different options available from foldable, fabric organisers to sturdy, rigid trays with compartments for heavy items or wet gear. They are generally removable and easy to clean.
Sun Shades
Keep your cool during hot Kiwi summers and prevent your car from becoming an oven when you can't find a park under a tree.
Front shades can help prevent fading and cracking of your dashboard. Side and rear shades are important for protecting your passengers – especially babies and young children. Simple sunshades are generally cheap and can add some style or make a statement with a fun design.
All five of these accessories offer inexpensive ways to protect your car from damage, and could improve your car's resale value when you come to trade it in or sell it later on.
To see the Suzuki accessories available for your model, visit suzuki.co.nz. Click on the category (small car or SUV) and a drop down 'Accessories' menu will appear at the top.