< News
18 May 2018
Suzuki Launches Safari Packs for Vitara, Grand Vitara and Jimny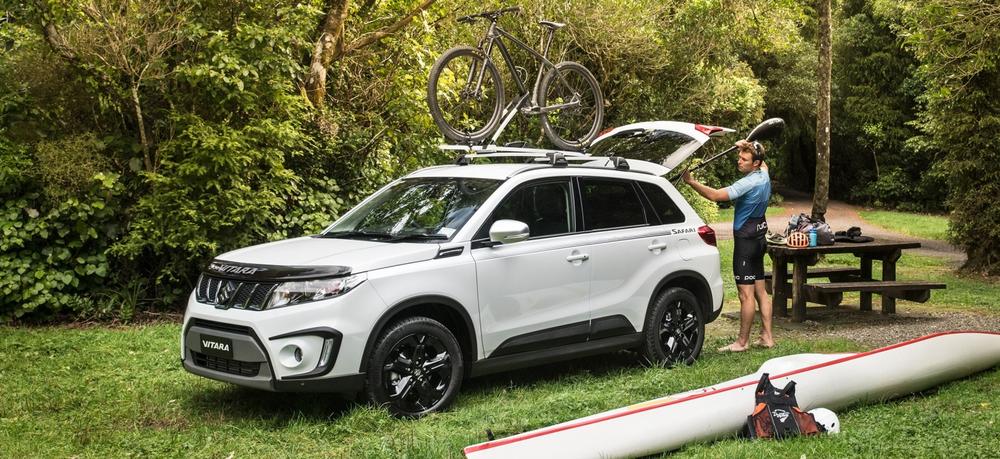 Three new Safari versions of Suzuki's Vitara, Grand Vitara and Jimmy SUV models have been added to the New Zealand market lineup.
The Safari packs add a special touch to the popular lifestyle vehicles and are keenly priced to make them even more attractive. Both the Grand Vitara Safari and Jimmy Safari carry a premium of just $1,000 over the standard versions, while the Vitara Safari is only $500 more than its normal recommended retail price.
With its enduring styling and highly practical abilities, Jimny is Suzuki's longest-running model, and makes a real statement in Safari mode with a front skid plate protector, stainless steel side steps and branded soft spare wheel cover. Two large and deep cargo trays ensure the rear load area is kept clean from wet, sandy and dirty items.
Safari graphics along the lower sides set this Jimmy apart and the 15-inch wheels are fitted with 205/70R15 tyres. The entry level 5-speed manual Jimmy Safari JX has a recommended retail price of $20,990, while the higher specification Sierra variant is $23,990 in manual gearbox trim and $25,500 when specified with the four-stage automatic transmission.
The 1.3 litre, 16-valve M13A engine with variable valve technology and multi-point fuel injection, produces 62 kW of power. It drives through a four wheel drive system with air locking hubs that allow on the move shifting between two wheel drive and four wheel drive.
The compact Jimny is a genuine on and off-road SUV with a ladder-type, three-section frame to cope with rough terrain. This rigid chassis is complemented by eight body mounts and extensive noise reduction measures.
Suzuki's larger 4.5 metre long 4WD Grand Vitara is available with the new Safari pack in either three-door or extended wheelbase five-door configuration. The Safari specification includes a front nudge bar, stainless steel side steps and a deep cargo tray to protect the rear interior.
Like Jimmy, the rugged Grand Vitara also has a built-in ladder frame construction with a monocoque body that increases rigidity and durability. Grand Vitara's four-mode, four wheel drive system transmits power to all four wheels at all times and a switch in the centre control allows the driver to quickly and safely change between drive modes.
A 2.4 litre, 16-valve, four cylinder, multi-point fuel injected engine incorporates variable valve technology and develops 122 kW. The three-door JLX Safari has 16-inch diameter five-spoke alloy wheels and 225/70R tyres and is priced at $32,990 with the manual transmission and $34,500 in automatic form.
Larger diameter 18-inch alloy wheels with 225/60R tyres are standard on the five-door SE Grand Vitara manual gearbox model which retails at $38,500, and $39,990 with the four-stage automatic transmission. Grand Vitaras are comprehensively equipped with climate control air conditioning, cruise control, touchscreen infotainment, Bluetooth, satellite navigation and reversing camera. Six air bags, electronic stability programme (ESP) and ABS with brake assist are also standard.
The five-door Vitara Safari is distinguished by a smoked bonnet protector, black front bezels, side body mouldings, roof racks, special graphics and a rear interior cargo tray with rugged tread to prevent items slipping. An optional bike or snow attachment for the roof racks is also available.
Safari versions of the Vitara start with the two wheel drive $28,490 1.6 litre, 86 kW JLX manual ($30,490 auto) and the $34,490 JLX AWD six-stage automatic. The lively 1.4 litre, 103 kW Vitara Turbo auto in 2WD form is $34,490 and with four-wheel drive AWD configuration is $38,490. A contrasting roof colour option is $800 extra.
Seventeen inch diameter aluminium alloy wheels, finished in gloss black on Turbo models, are standard, along with climate control air conditioning, cruise control, speed limiter, Apple CarPlay, Android Auto, satellite navigation and reversing camera. The Vitara Turbo adds keyless entry and push button start, leather and suede upholstery, automatic light sensing headlights and automatic rain-sensing wipers.
Safety is prominent with the Vitara that includes ABS with EBD and brake assist, a brake override system, hill-hold assist on automatics and hill descent control on AWD models.
Safari versions are still available under Suzuki's no deposit offer and come with a three-year, 100,000 kilometre warranty, extending to five years and 100,000 km for the power train.