< News
08 Feb 2018
Leaner Meaner Swifter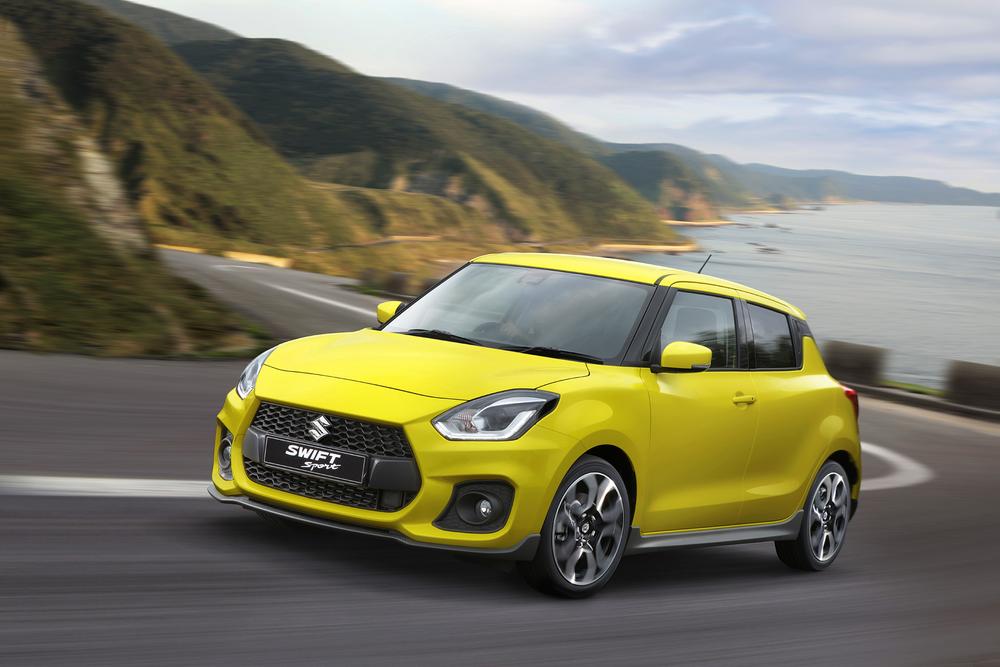 Hot Hatch Style
There's no mistaking that iconic Swift Sport design – but as you can see, it's been ramped up, reimagined, and refined. The new Sport is lower and wider with customised skirts, twin exhausts, and a unique rear spoiler. You'll also notice a new honeycomb grille, a business-like rear diffuser, distinctive 17-inch polished alloys and check out those hidden rear door handles!
INTERIOR INTUITION
Inside, Swift Sport is laser-focused on delivering the ultimate experience to the driver. With meticulous design, quality components, and an intuitive layout the car becomes a natural extension of your body. There's a sporty D-shaped steering wheel, a premium competition shifter, and race-style alloy pedals. The main console features a prominent speedometer and tachometer along with turbo boost, oil temperature and G sensor readouts.
The Swift Sport's semi-bucket seats incorporate lightweight tubular frames to hold you firmly during cornering. Even the internal pads have been carefully shaped and fine-tuned to transmit road-feel but remain comfortable for everyday driving. In the rear there's plenty of clever storage with roomy seats that fold down to make the most of the practically-proportioned boot.
As you would expect, new Swift Sport has all the latest mod-cons including a 7-inch touchscreen display with a built-in reverse camera. This gives you access to a range of multimedia features including audio, hands-free phone, navigation, and smartphone integration. Automatic air conditioning helps you keep your cool when things get heated, and the Adaptive Cruise Control system utilises millimetre wave radar to make open road cruising more comfortable and safe.
Turbocharged excitement
It wouldn't be a Swift Sport without a race-tuned, championship-worthy engine – and the newly developed 1.4L BoosterJet delivers in spades. This direct injected, intercooled turbo powerhouse is a technological tour de force. It's compact, lightweight and fuel-efficient while delivering a robust amount of torque even in the low rev range. It responds instantly and accurately delivering punch, dynamism and authority.
POWER: 103kW @ 5,500rpm TORQUE: 230Nm @ 2,500-3,500rpmFUEL: 6.1L/100km combinedCO2: 141g/km
Lighter, stronger Heartect platform
New Swift Sport features a state-of-the-art, high-rigidity HEARTECT frame. Its smoothly curving continuous shape effectively disperses impact energy in the case of a collision. Fewer joints and the use of special high-tensile steel mean less reinforcements are required which reduces weight. In fact new Swift Sport is up to 90kg lighter than its predecessor. With a kerb weight of just 970kg (manual) – and that incredible BoosterJet engine, it boasts an outstanding 4.2:1 weight-to-torque ratio (kg:Nm). Translation? Higher fuel efficiency, increased agility, quicker acceleration and even more responsive handling.
State-of-the-art safety
Swift Sport sets the standard for safety. On top of the stronger HEARTECT chassis, it features an Advanced Forward Detection System with a range of incredibly accurate sensors including a monocular camera, laser, and millimetre wave radar. These innovative accident avoidance and electronic driver assistance technologies have helped Swift Sport achieve ANCAP's highest safety rating of 5 out of 5 stars.
See the article later in this issue for more on Suzuki's game-changing Advanced Forward Detection System.
Manual $28,500 plus orc
Auto $29,900 plus orc