< News
04 Sep 2018
AA's Chief Driving Instructor relishes making a difference in people's lives.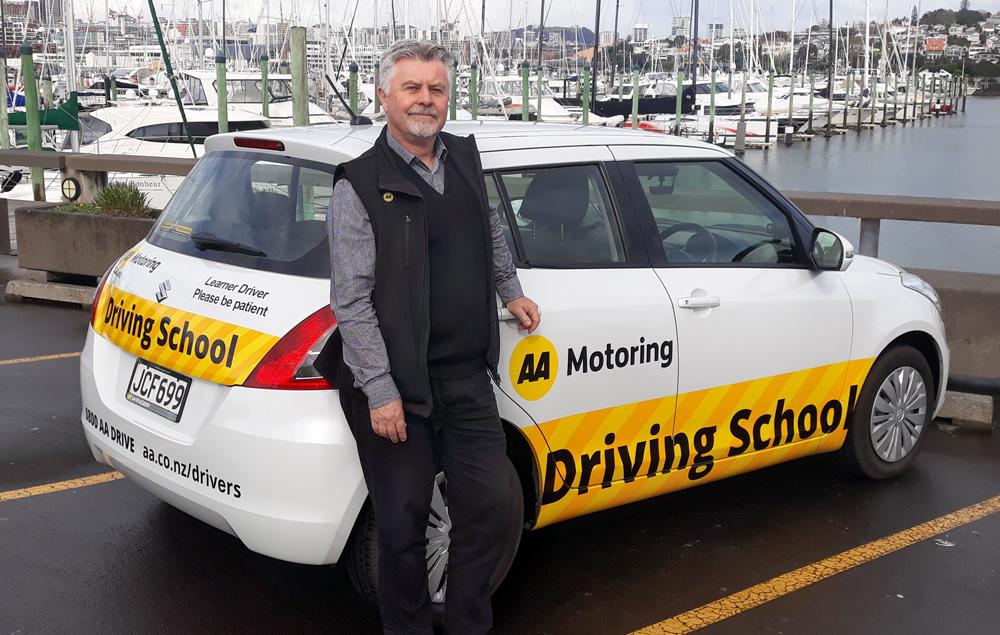 "Helping young people become safe, confident drivers is extremely rewarding," says AA Chief Driving Instructor Bruce Fox.
"It's very fulfilling when a student you've taught passes their test, knowing you've made a difference in their life," Bruce says.
Bruce became an AA Driving Instructor on Auckland's North Shore in 2014. His profile quickly grew in the community – resulting in him taking more than 1000 driving lessons in a 10 month period.
"Students would often text me after they'd passed their test and say how excited they were and how grateful they were for my tuition.
"It was great to see them reach their goals and take the pressure off mum and dad to teach their children."
Cars, the restricted and full driver licence tests, and general best practice driving skills have changed a lot over the years. Parents often teach to the standard required when they sat their test, which doesn't cover everything needed now, plus explaining how to do things which are second nature to you can be challenging.
For many years, for example, having your hands on the steering wheel in the 10 and 2 positions of a clock was considered the safest way to drive, but now the 9-3 position is considered the safest – for good reason.
The addition of driver airbags to modern vehicles means if your hands are in 10-2 and the airbag deploys (at a speed of up to 320 km/h) it could slam your hands directly into your face causing panda eyes, a broken cheek bone, or wrist.
"That's a change people often haven't always heard about, or if they have, they don't know the reasoning for it, so don't teach it to their children," says Bruce.
"Professional driving instructors are able to articulate the best, safest ways to do things these days."
In 2015, Bruce took up the role of AA Chief Driving Instructor. This involves providing support and mentoring AA's Driving Instructors in the greater Auckland region as far as Whangarei, plus doing fleet and business driving assessments.
"I miss teaching young people who are totally new to driving and training them to the point they are able to pass their restricted licence test, but now I'm a part of the bigger picture of driver training, and the services we deliver across AA Driving School."
For more information, visit aa.co.nz/drivers or call 0800 223 748 to book lessons with an AA Driving Instructor.
Learner licence holders who have had their licence for less than a year, are AA Members, or have a family member who is, may be eligible to three free lessons through AA Ignition.
AA Driving School's car of choice is the Suzuki Swift due to its 5-star safety features and compact size. There are currently 119 Suzuki Swifts in its fleet fitted with dual brake and accelerator controls, either in a manual or automatic.